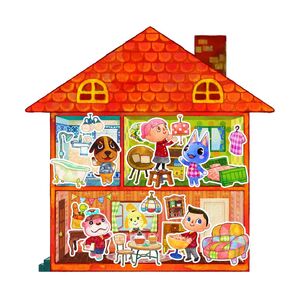 General Questions
Edit
Amiibo Cards
Edit
So what are amiibo cards for?
1. They allow you to bring in special characters (such as Isabelle, Tom Nook, etc.) into the game and allow you to decorate homes for them. This can't be done without cards.
2. They can be used to receive decoration requests from specific villagers.
3. When you visit a villager, you can use the cards to invite others to their home, and transfer furniture from one game to another.
4. In community buildings, they allow you to give villagers/characters certain roles. However, the cards are not required for gameplay in anyway.
5. They are the only way to unlock the photo frame items for each special character. And scanning in Isabelle's card is the only to unlock her Scooter item.

How do I redo a villager's home?
If you'd like to redecorate, relocate, or expand a villagers home, tap the book on the lower part of your screen when you start a new work day. You can then select the villager whose house you want to visit. When you talk to the villager, you can choose to do a deluxe remodel. This option will allow you to change the plot, or add more rooms to the house. Each time you go back to the same villager's house, you can make it even bigger.
How do I redo a public facility?
After you add more rooms to the school, Digby will stay in the office. If you talk to him at the beginning of a work day, you will be able to go back and edit one of your facilities.
System Questions
Edit
I don't have a New 3DS (XL). Can I still play this game?
This game can be played on on an "old" 3DS. However, if you want to be able to use amiibo cards with the game, you will need to purchase an NFC reader.
Can I have more than one save?
Unfortunately, you can only have one save and one character for this game. If you need spirit characters/saves, you will need to buy another copy of the game.
Ad blocker interference detected!
Wikia is a free-to-use site that makes money from advertising. We have a modified experience for viewers using ad blockers

Wikia is not accessible if you've made further modifications. Remove the custom ad blocker rule(s) and the page will load as expected.